Free Multi Activity Instructor Training Course
A 30 week (15 training & 15 placement) non-residential intensive skills, leadership & Instructor training course allowing participants immediate progression in to the outdoor adventure education industry
Cost: Free 15 week skills & NGB training & assessments, followed by a 15 week placement Banks Outdoor Education Centre.
Start date: 5th February 2018
End date: 2nd September 2018 (includes a consolidation week)
Age requirements: 18+ years. The Multi Activity Instructor Training Course attracts applications from a wide and diverse range of backgrounds and ages. This includes young adults progressing from formal education and university studies, those not in education, employment or training at present to mature professionals looking for a career change. We therefore welcome applications from all ages ages and ability levels.
National Governing Body Qualifications offered: 18
Who are we looking for? We are seeking motivated, reliable and well organised individuals who are passionate about the outdoors and seeing themselves and others develop through outdoor education. Successful applicants will have a really positive "can do" attitude and approach.
Requirements: Application, short-listing and interview. Applicants must be 18 years of age by 16th March 2018.
Any training position offer is conditional upon the receipt of satisfactory references and satisfactory clearance from the Disclosure and Barring Service.
---
The Haven Banks Instructor Training Course is particularly suited to those looking for a focused, faster track approach to gain skills, essential experience and National Governing Body Qualifications.
With a similar training programme to our Outdoor Instructor Apprenticeship, the Instructor Training Course is often a more attractive package for those who do not meet the requirements for the apprenticeship or those wishing to focus purely on their NGB qualifications over a shorter period of time.
Haven Banks Outdoor Education Centre has been established for over 48 years and has more than 24 years experience in successfully delivering instructor training programmes.
With a minimum of 18 National Governing Body on offer our students have a 100% success rate of securing work in the outdoor adventure education industry. Many are now leading, instructing, lecturing and coaching to a high level nationally.
---
Who is the Instructor Training Course for?
With over 24 years experience of running such courses we have found our Instructor Training Course is the most successful at progressing students in to the outdoor adventure industry.
The course is designed to equip trainees with the rounded skills and essential experience required to either "jump start" or progress their qualifications and coaching & leadership career.
15 weeks training is consolidated with a 15 week unpaid placement which provides essential experience for logbooks which is a foundation and essential progression towards National Governing Body assessments.
Previous students have included:
Completed full-time outdoor adventure students.
Those not eligible for an Apprenticeship
Professionals looking for a career change.
Retired professionals.
Trainee Instructors looking for progression.
Students taking a "year out"
Teachers looking to add practical qualifications to their QTS.
Degree Students who now need practical experience and qualifications to complement their academic qualification.
---
Further Information:
We recommend you visit the centre prior to completing and sending application. This allows you to look around the centre and our facilities, meet the staff and some students who have attended the course previously and also to get a general feel for the centre and how the course is structured and delivered.
During your visit the Centre Manager and/or Senior Instructor will also meet with you to discuss the course in more depth and answer any questions you might have which have not already been answered.
If you are unable to visit the Centre we can arrange a meeting over the phone, via Skype or Face-time, whichever is more convenient.
A full course prospectus will be available to download soon.
---
How the Course is structured:
Phase One - Training, Skills & Initial Assessments - 5th February - 18th May '18
15 weeks full time instructor led activity skills and leadership training.
Monday to Friday 9.30am - 4.30pm.
Residential trips including Portland, Cornwall & North Wales.
Weekends: Free-time or non-instructed consolidation days where students can *use centre equipment to practice skills and peer-peer coaching. Further in to the course some weekends will be allocated to NGB Training & Assessments.
April - Non-Instructed consolidation week.
Phase Two - Work based placement & Logged Group Leadership & Final Assessments - 19th May - 2nd September '18
15 week placement as part of the Haven Banks staff team.
Working directly with groups and individual to log essential logged experience.
36 hours per week including some evening and weekend hours.
1-2 days off per week.
An allocation of leave/holiday during the phase 2 of the course, on requested and approved dates.
Attending further NGB training and assessments as required and relevant to the centre and your personal action plan.
---
What's included:
15 week full-time skills and leadership training with experienced leaders, instructors & coaches.
15 week full-time placement training, assisting and leading adventurous activities.
Full use of the centre's extensive facilities.
All listed NGB skills, coach & leadership courses.
Use of all specialist activity equipment***
Transport to off-site activity locations**
Access fees for caving, climbing**
Trainee/Staff Uniform
Optional quality kit package.
Mentoring and Guidance from Multi Activity Tutor throughout the course.
DBS Check, Equality & Diversity & Safeguarding Training.
---
Personal Equipment:
All specialist and activity equipment is provided. However, students may wish to purchase their own personal clothing and equipment by taking advantage of preferential & trade discounts with local and national retailers and suppliers.
Course cost: Free* (including a 15 week unpaid placement)
What about after the course?
The course is timed, designed and structured to allow you immediate progression in to employment as an outdoor activity instructor. Additionally, for those wishing to remain in the area casual winter work and full-time seasonal employment is available at Haven Banks to successful trainees.
---
Additional Costs to Consider:
Accommodation & board.
National Governing Body memberships, registration and certification.
Residential bunkhouse and camping fees.
Optional National Governing Body handbooks and logbooks.
Optional additional NGB courses to those listed.
Optional personal activity clothing & equipment package. (see above)
---
Application Process
Please apply by emailing the Centre Manager Ben Hedden. We will then contact you to arrange a convenient time to invite you to the Centre.
Centre Manager on 01392 400153 or email ben@haven-banks.co.uk
---
***Students must be at a competent standard.
**During official course hours
*Please see additional costs to consider
Carlos Chamba Bravo
Since I was little I have been passionate about the Outdoors, growing up in the Andes Mountains I learned to love the outdoors. When I moved to the UK I had little experience of the activities but I wanted to succeed and make a career in Outdoor Adventure. I did a lot of research and found out about Haven Banks Instructor Course. Attending the Instructor Training Course gave me the tools I needed to transform my Outdoors passion into a lifestyle and livelihood. Having completed the course I achieved many National Governing Body Qualifications in water sports including kayaking, canoeing and land-based activities such as climbing, mountain biking, walking and mountaineering I have worked in various outdoor activity centres since completing my course both as a full-time and as a freelance instructor and I am now a sponsored paddler, competing in prestigious extreme kayaking races around the UK and across Europe. The Haven Banks Instructor Training Course allows you to learn new and reinforce existing skills in a friendly, enjoyable atmosphere at the same time as allowing you to progress and find the right path to your instructor career as I did.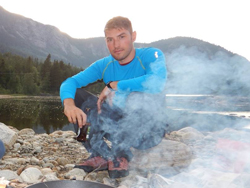 James Hill-Reid
After graduating I worked in an office job but always had a dream in mind to change careers. I was lucky enough to complete the Multi Activity Instructor Training Course at Haven Banks in 2013 and I haven't looked back since! After 3 seasons as an instructor at a centre I progressed to completed my PGCE and I now work in a further education college as a lecturer on a BTEC and Foundation Degree courses in Outdoor Adventure. Haven Banks is a great environment to learn and progress in. There is such a wealth of knowledge and skills across the staff and you get to work with a diverse range of people that will equip you well for the future. Everything on the course is geared to improving your skills and qualifications. You get out as much as you put in and with so many opportunities on the course, the sky is the limit as to what you can achieve. The best part of working in the outdoor industry is helping people enjoy what can potentially be some of the most fun and memorable experiences of their lives!
Abi Campbell
I have always loved the outdoors, when I was little we would go away on family camping holidays to Scotland, Wales and Cornwall. This evolved while studying at school as I had the opportunity to visit an outdoor centre in PE sessions. Mr Parker our Outdoor Education teacher was a real inspiration and would encourage us all to take part in Outdoor Sports. After School I went to University to study Tourism Management. While in my final year at University I joined Haven Banks' Multi-Activity Instructor Training Course - this was where I first started to gain my National Governing Body qualifications and get experience teaching a variety of different groups in the Outdoors. I enjoyed the course so much, I wanted to find a way to make it a career and a full time, permanent job. Therefore following this I decided to do a PGCE at College and I was fortunate enough to be able to teach Further Education students Outdoor Education and Tourism as part of my course. I am now a Programme Leader for the Foundation Degree in Applied Outdoor Adventure course. I can highly recommend Haven Banks' Instructor Training Course which has provided me with a solid foundation to progress to where I am now.